Censorship by Ethereum Maintainers
Tweet
The Ethereum Maintainers and Moderators inexplicably took actions to censor the Fuck Nazis Virtual Lapel Pin.
When I posted the project to the Ethereum subreddit on August 26th (here) it faced an immediate barrage of negative attention from the Ethereum community. I can tolerate negative reception, but I can't tolerate censorship.
One of the negative response I noticed a few days after posting was Vitalik Buterin (the infamous founder and lead maintainer of Ethereum) liking a libelous tweet which called my project "a shameless attempt at scamming people". I typically interpret a like on Twitter as at least a weak endorsement (the twitter-meme "RT not endorsement" can be taken to imply that while retweeting is not endorsement, maybe liking is).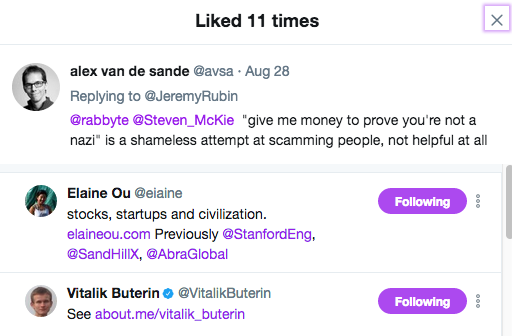 From my perspective, Vitalik's implicit endorsement of a libelous message claiming that I am perpetrating fraud with Fuck Nazis is the only shame-worthy action! From day one Fuck Nazis' course of action has been focused on many charitable causes, including:
Donations to organizations like the Southern Poverty Law Center and the Anti-Defamation League.
Sponsoring guards for synagogues who are denied publicly funded police details.
Workshops on how to non-violently oppose Nazis in cities where they are staging demonstrations.
After Vitalik liked the above tweet, I noticed that my post was censored from /r/ethereum by the moderators (Vitalik is also the lead moderator of /r/ethereum). This censorship occured days after it had been on the front page, leading me to believe it was removed for no logical reason other than distaste for the issue involved.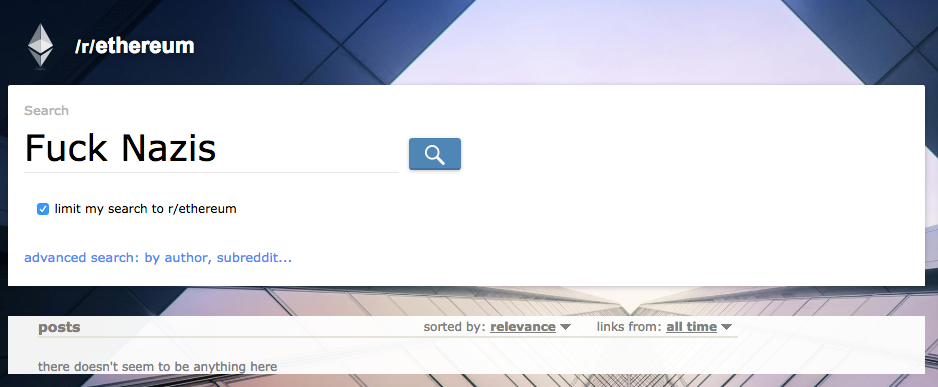 I met Vitalik back in 2014, in the very early days of Ethereum, so I was willing to give him the benefit of the doubt on the post removal. I shot him an email on August 29th and again on the 31st but he is yet to respond.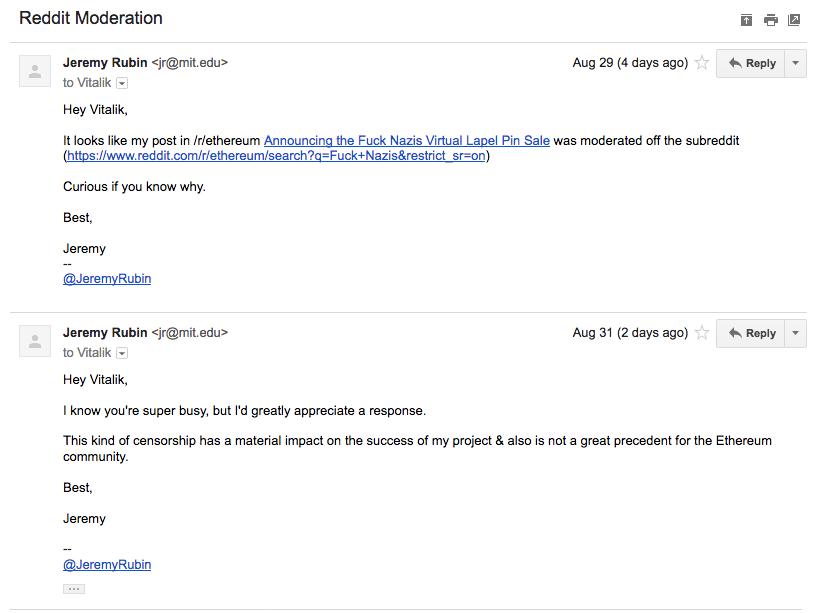 His lack of response to me signals, but does not confirm, that it was him who censored Fuck Nazis and he is unwilling to justify his actions to me directly.
The Ethereum Foundation and affiliated contributors have no legal requirement to grant me free speech as a private organization.
That said, they do have a moral responsibility to protect free speech and to be inclusive of many different kinds of people within their community. By actively censoring my post on Fuck Nazis, they have chosen to signal their alignment with a racist agenda and cause a chilling effect on future social impact projects on Ethereum.
Their attempted censorship runs counter to the philosophy stated on ethereum.org:
Ethereum is a decentralized platform that runs smart contracts: applications that run exactly as programmed without any possibility of downtime, censorship, fraud or third party interference.
While certainly Reddit doesn't attempt to make the same censorship guarantees as Ethereum, it's difficult to imagine that if the leader of the development team behind Ethereum is engaged in censoring causes spitefully on Reddit that he will lead the team to fulfill the promises laid out in their statement.
Vitalik (and others in the Ethereum Foundation) must make clear their strong intention for building inclusive and tolerant community with explicit actions to improve the situation. Until sufficiently addressed, the entire community must continually push leaders of the Ethereum community for more information on how they plan to treat similar issues in the future.
This isn't about getting an apology for censoring the Fuck Nazis thread, it's about not building technologies that put power into the hands of hateful people who will use their power to infringe on your human rights.
Overall, this is the least of my worries currently: the Fuck Nazis Virtual Lapel Pin project is currently facing ongoing censorship from the U.S. Goverment as well. But I figured it was worthwhile for me to write up this post so that the Ethereum community can respond accordingly.
Tweet
to continue the conversation...