United States Government Censorship of Fuck Nazis Virtual Lapel Pin
My Right to Say "Fuck Nazis"
Tweet
When I woke up in the morning of September 1st, 2017 I immediately began my morning ritual of lazily glancing through emails. On this morning, one particular email stood out — the Fuck Nazis Virtual Lapel Pin had been censored by the United States Government.
Let's jump back a minute for some context.
On August 19th, 2017 I began a new project, the Fuck Nazis Virtual Lapel Pin. The project's goal was to raise funds to resist the recent uptick in Nazism and other forms of violent racist extremism in America. The Fuck Nazis Virtual Lapel Pin is a unique fund-raiser because donors quid-pro-quo receive a digital asset in return for their contribution, I hoped this would harness the excitement around the emerging "Initial Coin Offering" phenomenon.
The reception was not as positive as I had hoped it would be — earlier in the week, I had been subject to some minor censorship by the Ethereum Maintainers and Community Moderators.
On September 1st, 2017 at 2:40 AM Pacific Daylight Time Neustar initiated a transfer of my domain. One hour and 29 minutes later Neustar sent me an email explaining the transfer.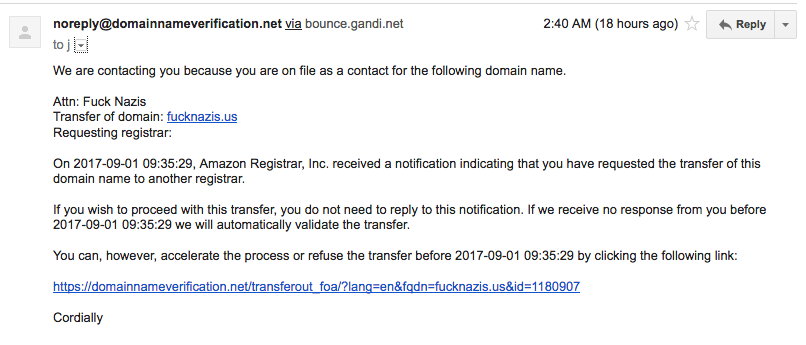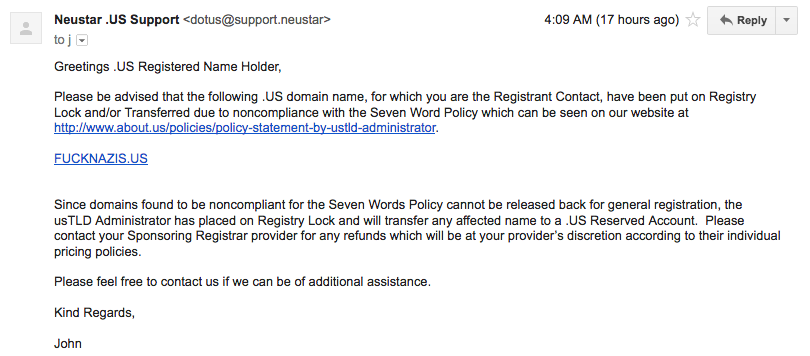 I've sent Neustar an email requesting that they reinstate my registration, but I've not yet heard back from them.

Neustar is a contractor hired by the U.S. Governemnt to operate the .us TLD. Because they are managing a federally owned property, I beleive they are obligated to follow the First Amendment with respect to registered names. Otherwise, I do not think the FCC may legally continue to use them as a contractor. To quote ICANNWatch:
[W]hile a private entity like Neustar is under no intrinsic obligation to respect the First Amendment, the fact that they did this under government consultation, and pursuant to a government-granted charter to operate the country code registry for the United States, raises serious issues of Constitutionality.
It's not a strange expectation to hold that contractors of the United States Government must abide by constitutional provisions. For instance, private prisons are not at liberty to exact cruel and unusual punishments. Kimberly N. Brown delivers a thorough treatment of this in "We the People," Constitutional Accountability, and Outsourcing Government. While there are controversial cases, it is generally clear that public actors must hold accountable private actors that they delegate their constitutional powers to.
Notwithstanding the concern over whether it is the FCC or Neustar who is legally culpable, we can safely assume that the FCC is bound to ensure that Neustar respects constitutional rights in fulfilling their duties as a government contractor, and therefore examine Neustar as a government actor.
Neustar's management policy document can be found here. The relevant sections are B-78 and B-98. Neustar claims that they will review domains which contain the "7 Words" and possibly delete them (presumably, ensuring that they are not violating the registrant's First Amendment rights). Their claim is that the domain fucknazis.us violate's the "7 Words" policy enforced by Neustar. (This is a reference to George Carlin's infamous Seven Dirty Words skit) In this case, the presence of "fuck" in the domain is what alerted Neustar to need to review my domain. However, in failing to waive fucknazis.us I believe they violated my First Amendment rights.
There are three major relevant Supreme Court cases here, Cohen v. California (1971), Miller v. California (1973), and FCC v. Pacifica Foundation (1978).
In Cohen v. California, a man was arrested for disturbing the peace for wearing a "Fuck the Draft" shirt. In this case, the speech was found to be protected by the First Amendment for multiple reasons. Most relevantly, the court refused to recognize the speech as "Fighting Words", or speech intended to elicit violence. This is because Cohen's voiced dissent of the draft was not intended to elicit any violence, it was simply to voice an opinion. Similarly, the material published on the Fuck Nazis site was clearly in support of non-violent action, e.g.
As a first measure, and irrespective of what is most effective, I want to use funds raised ensure that it is possible to protest these Nazis as safely as possible. No one should permit the Nazis to intimidate them out of their freedom to speak against them.
along with a list of other non-violent actions I would use the funds raised to support. The court went further to find that
Finally, and in the same vein, we cannot indulge the facile assumption that one can forbid particular words without also running a substantial risk of suppressing ideas in the process. Indeed, governments might soon seize upon the censorship of particular words as a convenient guise for banning the expression of unpopular views. We have been able, as noted above, to discern little social benefit that might result from running the risk of opening the door to such grave results.
This makes it clear that the censorship of Fuck Nazis Virtual Lapel Pins by revocation of the domain fucknazis.us is unconstitutional.
Miller v. California is a case of a very different nature involving the distribution of pornographic content, but it established a simple three-prong test for unprotected explicit speech. If you pass all three tests, then the work is considered obscene.
(a) whether "the average person, applying contemporary community standards" would find that the work, taken as a whole, appeals to the prurient interest.
Fail: Fuck Nazis is clearly non-pornographic and elicits no sexual response.
(b) whether the work depicts or describes, in a patently offensive way, sexual conduct specifically defined by the applicable state law.
Fail: Fuck Nazis is clearly non-sexual.
(c) whether the work, taken as a whole, lacks serious literary, artistic, political, or scientific value. If a state obscenity law is thus limited, First Amendment values are adequately protected by ultimate independent appellate review of constitutional claims when necessary.
Fail: Fuck Nazis is a political and artistic project, and is presented cogently.
Having clearly failed all three tests, Fuck Nazis is non-obscene protected speech by all measures.
Critically, both Cohen v. California and Miller v. California are both rulings with regards to the state's ability to restrict speech. Only FCC v. Pacifica Foundation deals with the federal government's ability to restrict "obscene" speech, which established the "7 Dirty Words".
The critically relevant part of FCC v. Pacifica Foundation is that the measures enforce by the FCC (to only broadcast during hours children are unlikely to be awake) did not prevent adults from accessing and finding the content. In this case, Neustar's actions against Fuck Nazis does prevent adults from accessing the content unadulterated (whereas the time restriction enforced by the FCC permitted identical material to be broadcast at a reasonably later time). Furthermore, based on Neustar's enforced policies I would be able to register the domain "nazis.us" (if it were available — it's been held since 2014) and use the subdomain "fuck" giving me the "fuck.nazis.us" domain. This makes the case that there is zero benefit from the measure taken by Neustar, at the expense of the significant burden of forcing me to change a domain that I have already linked to in numerous communications. Of greater concern is the general freedom of speech risk established by this enforcement mechanism.
Based on the above, Neustar, acting as an agent of the United States government, plainly violated my First Amendment rights causing damages to my project that are difficult to quantify given that the fund-raiser I was hosting on the site is ongoing.
Tweet
to continue the conversation...